There's a huge choice of containers available in our garden centre in Jersey, but two types remain most popular: clay terracotta, or versatile plastic. So which is best for you, we look at both sides of terracotta and plastic pots.
Terracotta has the look of a richly organic traditional material, yet you'll find angular modern designs among the traditional clay in our garden centre.
Terracotta pots are heavier, and also have porous sides, allowing air and water to pass through and letting plants' roots 'breathe'. This means you'll need to water more often: lining the inside with plastic (punched with drainage holes) helps. You'll find pots in our garden centre are labelled 'frost resistant' so they won't flake or crack in the cold: putting them up on pot 'feet' also helps prevent frost damage.
Plastic is light and lasts ages, and there's a dazzling range in our garden centre. Modern plastic finishes can look almost identical to terracotta, so you can still get the traditional look.
The points:
Water retention
Yes, plastic pots hold more water than clay, but this makes them an ideal choice for plants that thrive in moist soil, or if you tend to forget to water. One of the downsides to clay pots is that clay is porous. Clay pots wick water and potting mix dries out faster which means you need to water plants more.

Durability
Newer plastic pots are tough, durable, and virtually unbreakable. A major downside to clay is that the pots are easily cracked or chipped, which rarely occurs with plastic pots. Clay pots are likely to break during freezing weather, but plastic pots are more flexible and are usually able to withstand repeated freeze/thaw cycles all winter long.

Lightweight
Do you like to move your plants from place to place? The weight of the containers is one of the downsides to clay. Plastic is lighter and even larger pots can be easily relocated. Price. The pros of plastic pots include the reasonable price. Clay pots are often hugely expensive, but high-quality plastic pots can usually save you a few dollars. If you want to change pots from time to time, using plastic pots instead of clay won't break the bank.

Recyclability
As gardeners, we are concerned about our impact on the environment, especially single-use plastic, but today's higher-quality plastic pots are often recyclable. Look at the bottom of the pot for information about recyclability. Be sure the pot is clean before you take it to the recycling center.
Please ask the staff in our Jersey garden centre for more information and advice about choosing between Terracotta and Plastic Pots for your garden.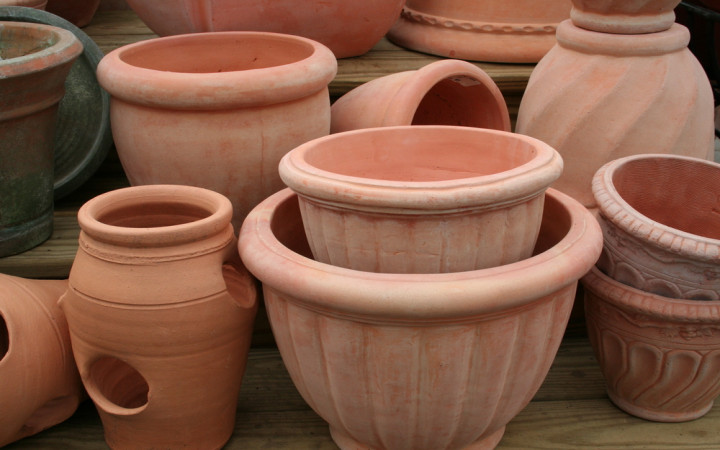 Terracotta and plastic Pots.